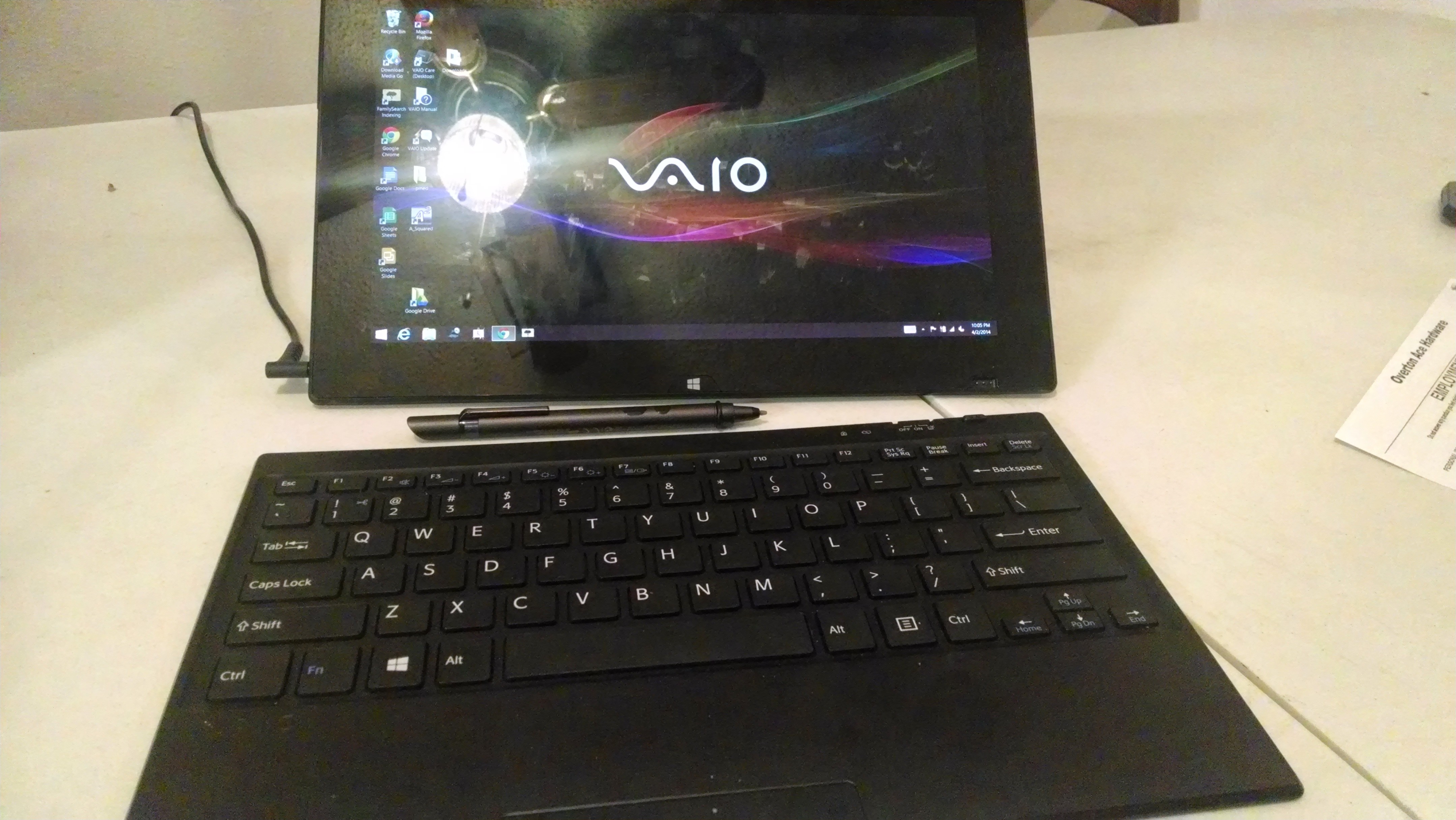 My wife wanted to try and see if she could get a homeschool Math Worksheet Generator we bought a few years back when we had computers that ran Windows XP. So we headed to Best Buy and checked out the latest. Our criteria was kind of like this:
must run the Math Worksheet Generator (which we didn"t bring on a thumbdrive – we should have, hindsight is 20/20)
must not be a crippled version of Windows like Windows RT
must be tablet-like
must be < $800
So we checked out the ones they had there, and decided on the Sony Vaio for $799. We knew that if we didn't like it we could bring it back and get our money back.
We got home and first thing was to try out the Math Worksheet Generator. It didn't work. Sigh. So then we prepared to set up access to GMail. Windows 8.1 has a Store thing that had a GMail app, but not an official one from Google. So we opted for one that was supposed to be able to be used in the "Metro" tablet-like overlay in Windows 8.1, but it didn't work as well as expected, so we opted to load the Desktop and then install Google Chrome (also not available in "Metro"). It came with the usual "bloatware" like a link to Microsoft Office ("buy now") and the trial version of Norton Antivirus which I promptly uninstalled since Windows 8 comes with Windows Defender which is an anti-spyware and anti-virus (good or bad as that may be). My wife installed other things and has made it hers. Kids haven't been able to use it. I used it to test out some program that ran on Adobe Air (which doesn't run on a Chromebook nor do they have a Linux version any more) and that's about it. I did NOT install LibreOffice on it, since I have told my wife to save things on Google Drive as she has had various laptop hard drives fail on her.
A few weeks later, we decided that it wasn't what she was looking for, so we decided to take it back to Best Buy. I figured I'd try to see if I could wipe it and restore the factory image. No CD/DVD drive, just USB ports and memory card slots. I ran the recovery by powering off the device, then pushing the "ASSIST" button on the back. It presented me a menu, I selected I wanted to recover and wipe it all, reset to factory settings. It told me that some files were missing and could not comply with my desires. As my 17 year old son would say: EPIC FAIL.
So we took it back to Best Buy with the receipt. They scanned the receipt and the box and then told me that we were 3 days past the 30-day return date. Really? Sigh. So we've had to keep it. Grr.
So now my wife has really made it hers. Today I come home from work and my wife told me that she can't click on various links correctly, it keeps sending her to some other links with ads. Great, adware. Fun. NOT! There were also popups with "Your computer needs an antivirus scan" and "Your computer is running slow" – actual applications, not browser Windows. So I moused over the notification area and saw some things I didn't recognize, disabled and killed those. Then I went to the Control Panel, Add/Remove Programs and looked at programs recently installed, uninstalled everything from that day and any others I didn't recognize and that she didn't know what they were. Reboot. Log in and programs are still popping up. Sigh. I then run msconfig and go to the Services and Startup tabs and uncheck non-Microsoft services and startup programs. I then do a take-two and see if any of the Microsoft labeled programs look suspicious and disabled those too. Reboot. OK. Still every now and then stuff would appear in the notification area, so I did a google search for "malware scan windows 8″ and found good old SpyBot Search & Destroy which used to be free and there is a barely functional version downloadable for Windows 8. I did find one that worked and removed 4 Spyware/Malware programs – it is called adwcleaner. After that, I then had to do some more Google searching to find out how to uninstall some programs that weren't uninstalled via the "Add/Remove Programs" dialogs (typical Windows).
As my favorite band of all time RUSH says in the song "Circumstances":
All the same we take our chances,
Laughed at by time,
Tricked by circumstances.
Plus ça change,
Plus c'est la même chose
The more that things change,
The more they stay the same.
Windows has changed a little bit over the years, but still the same issues have been occurring. It's still a closed-source, for-profit operating system, even though MicroSoft started out as a Unix shop selling Xenix.
My next task to is install Ubuntu Linux on this machine and see how it does – will the detachable Bluetooth keyboard and mouse work? Will the onscreen keyboard work? Touchscreen? Sound? Video resolution? etc, etc. I at least won't have to worry too much about downloadable adware, malware and viruses. I'll let you know how it goes in a later post!